2008's Top-Selling Games So Far: Wii
Posted in
斗米折腰话尤多
@ 13:26 BY
emlary
Comments(0)
Reads(1355)
Large | Medium | Small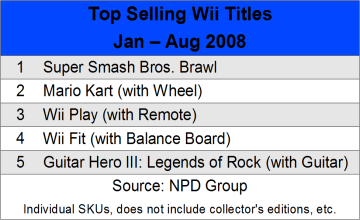 Gamasutra author
Matt Matthews
' analysis of the Wii's NPD sales results is as follows:
Quotation
We can pin down the actual sales figures a bit more easily on this list than on the others. We know that Super Smash Bros. Brawl has sold more than 3.2 million copies since its launch in March. Second is Mario Kart, which we know has sold 2.7 million units since its launch in April.

Wii Play, a nigh permanent member of the top 10 list, comes in at #3 for the year on the Wii. Nearly 2.5 million of the controller and minigame package have been sold this year, and given its 45% attach rate with Wii system hardware, it is quite likely that it will sell another million before the end of the year.

Despite shortages and its $90 price tag, Wii Fit has sold over 1.8 million units since its launch in May, earning it the #4 spot in the Wii's year-to-date software rankings.

As noted in the monthly NPD sales figure analysis, Wii Fit sales have been accelerating in the past couple of months, which could mean that it will sell exceptionally well throughout the holiday season.

Finally, the only third-party title in the Wii top five is Activision's Guitar Hero III: Legends of Rock, packaged with the wireless Wii guitar.

Although hard figures are not available, the Wii version had sold 1 million copies as of the end of May and has probably sold at least another 300,000 copies since then.
2008's Top-Selling Games So Far:
PlayStation3
and
Xbox 360
http://www.gamasutra.com/view/feature/3795/2008s_topselling_games_so_far_.php
前五名的游戏只有Wii版本的
吉他英雄
木玩过
因为我一直在Xbox 360上玩这个游戏 Orz
大乱斗和Wii Fit我都超级爱 啊啊啊!
好吧.....我是乡下人 没见过Wii版本的吉他
THQ Sets Up JV; Targets At China Online Game Market
Forbes.com: A Very Dangerous Game