周天王 真小受
Posted in
斗米折腰话尤多
@ 20:31 BY
emlary
Comments(3)
Reads(2283)
Large | Medium | Small
下午去魔都大剧院参加
真三国无双OL
的发布会
我一点也不希望周先生到场
因为我的目的是接触游戏运营公司的高层 不想现场氛围被娱乐明星所掩盖
可惜事与愿违
sigh.....无聊透顶的发布会
TMD我是专业分析师 不是脑残追星族!
算了....还是带了官方海报等手办回来 因为有朋友索要 = =|||
我对周先生实在无感
反正他也当众承认了: 他COS游戏人物拍摄的平面照 肌肉效果都是PS的
他自我感觉良好也不是一天两天了
我只惋惜....那么好的游戏 放在那么糟糕的运营商手里 造孽啊
游戏发布会搞得像周先生的唱片发布会 简直是本末倒置
---
无聊随手拍的图片 NND 今天体验了一把"娱妓"的工作
左起分别是
KOEI会长(developer)
周先生(spokesman)
天希CEO(operator)
站在我面前一米处的周先生 真人很小很矮 最重要的是.....
很受!!!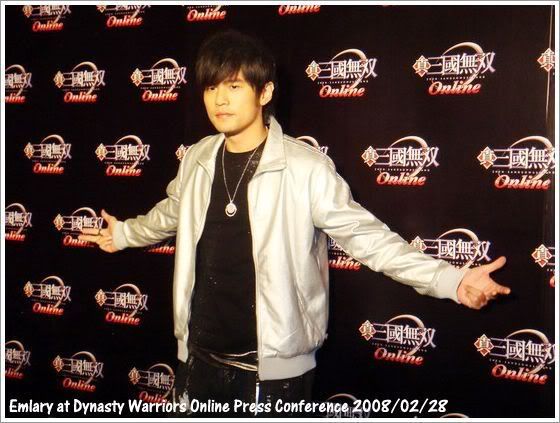 以下是industry analyst的发泄 慎入!!!
More Than An Online Game
I attended a press conference for a new 3D MMORPG – Dynasty Warriors Online at Shanghai Grand Theater today. The press conference, featuring popular Taiwanese pop star Jay Chow, who is the game's spokesperson, was crowded with entertainment TV show reporters and newspaper journalists from all over the country. Of the 300 or so attendees, I believe more than two-thirds were not from the online game industry. It looks more like a movie premiere than an online game press conference. I felt like more of a gossip reporter than an industry analyst.
KOEI, the developer of the game, set up a joint venture with Shanghai based online game operator T2CN to run the game in China. Formal T2CN CEO Deng Runze is the CEO of the JV, Tian Xi Network. Dynasty Warriors is KOEI's money brand. First released in 1997 as a console game, the Dynasty Warriors series are bestsellers among Three Kingdom games.
However, the marketing team at Tian Xi Network believes this is something more than just an online game. The company signed one of the most popular stars in Asia, who sings a song "Wu Shuang" (which is identical to the game's Chinese name), in an effort to attract more young users. I saw dozens of teenagers with Jay Chow fan club T-shirts sitting at the press conference. Are they going to play the game? I assume yes. Are they hardcore paying users? I doubt it.
Industry rumors say it takes at least one million Yuan to get Jay Chow to show up to a press conference. However, Tian Xi Network readied only two servers for limited testing of Dynasty Warriors Online in January. The servers were quickly overloaded and eventually went down. Client service was unavailable, and disappointed players were angered.
Another MMORPG from KOEI, Uncharted Waters Online (DOL), was a tragedy of poor operation on the part of its Chinese operator Foreseen. DOL survived seven months before its operator went bankrupt. KOEI had to sign another Chinese operator for the game, but by that time, players had already been hurt.
Game giants from Japan have suffered in the Chinese online game market in recent years. SEGA and Square Enix exited China last year. I wish KOEI good luck.
From the conference: Tian Xi Network invited WarCraft (an RTS game from Blizzard) world champion Li Xiaofeng (aka: WE.Sky) as a guest tester for Dynasty Warriors Online. But it seems the true gamer was a little out of place in the presence of the pop star. Check out the picture below; Jay Chow surrounded by microphones, Li Xiaofeng in the background:
树洞君6号
One Million Club